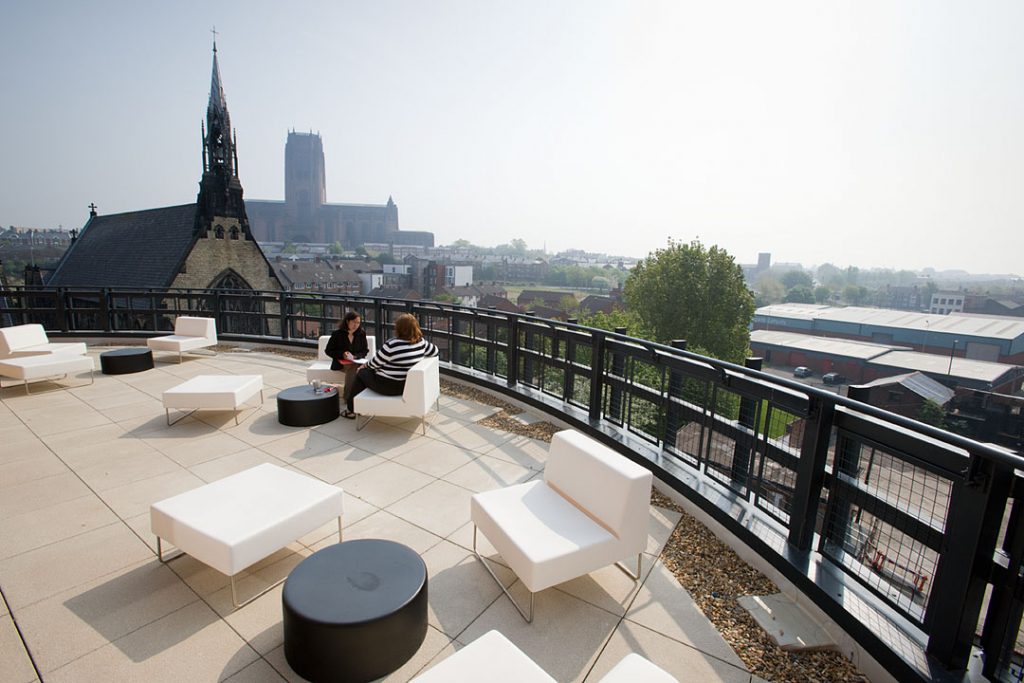 Is Your Office Impacting Your Wellbeing?
Did you know the average person in the developed world spends approximately 90% of their lives indoors? For those with desk jobs, that amounts to a LOT of time in work!
Research shows that the conditions and facilities in your working space have a significant overall impact on your health and wellbeing, which also affects job productivity. It is now clear that businesses should be assessing their office space as much as other aspects of their business.
Here are FIVE aspects that research shows are crucial to a healthy workspace.
Visual comfort, daylighting & artificial lighting.
Lots of research suggests natural light improves focus, productivity & creativity. One study showed office employees spent significantly less time at their desks when their offices didn't have windows.
Furthermore, it's more sustainable to use natural light sources than artificial lighting, and windows aid indoor air quality and ventilation – another huge marker of workplace health and wellbeing. One study saw productivity improve by a whopping 8 – 11% due to improved air quality. [2]  This is why every office at 54 St James Street features a window.
Thermal comfort, temperature & humidity
We all know how being too hot or too cold can affect your work – but it can also bring about humidity issues and infections.
54 St James Street boasts a heating system that is 2 degrees higher than the UK average to ensure extra comfort. As a landmark facility for women in business, this was incorporated to take into account women's higher core body temperature, meaning they can be more sensitive to the cold.
Interior layout, active and inclusive design, look and feel
The workplace provides many people with social stimulation, so although privacy is a must when you need to focus, it's good to have 'breakout spaces' for mingling.
Our building tenants work in graphic design, psychology, marketing, accountancy, business consulting & more. The inclusive, forward-thinking design of the building means you can bump into anyone at the on-site café or in the extra-wide hallways.
Connections to nature (biophilia)
Connection to nature is crucial to health & wellbeing, so it's no surprise that many studies[3] have linked it to health in the workplace. Did you know Google HQ in London features a floor where staff can grow their vegetables? It's no wonder 54 is home to multiple gardens and outdoor spaces, three rooftop terraces & outside café seating.
Location and access to amenities 
A well-situated workplace can make life much easier, cutting commute time and stress and allowing access to nutritious food options. In some studies, on-site amenities have been rated as highly by employees as company perks.
54 is ideally located in the heart of Liverpool's creative district, the Baltic Triangle, and is just a short walk from Liverpool One and Bold Street. That means excellent transport links & access to services (not to mention our on-site café – Bisque-it!)
So – time for a change of scenery?
54 St James Street is a social enterprise and charity. By using our facilities, you will contribute to supporting vulnerable women and disadvantaged communities through the work of The Women's Organisation.
We currently have office space available and welcome applications by female led businesses. Please contact venue@thewo.org.uk or fill out the below form to find out more about securing a new, feel good office space.
You can also click here to explore our office facilities online.
Sources:
The impact of buildings on our health and wellbeing – Modern Building Services (modbs.co.uk)
How does my building impact my people? – Surveyors Journal
How green spaces can influence employees' productivity and happiness | LabGov