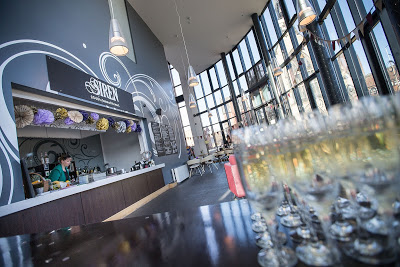 54 St James Street Tenant of the Month – Siren Catering Ltd.
So, Tenant of the Month is back! Each month we will be publishing an interview with one of our lovely tenants in the building, asking them what they like about the building and finding out what their business is all about!
And we are kicking it off with the one and only, Siren Catering. Siren keep the tenants of 54 St James Street fed and watered all year round and the cafe is the perfect place for a quick meeting or a long lunch.
We took the opportunity to have a quick fire chat with Jeni and Natalie and find out what they like about 54 St James Street…


Name of Your Business: 
SIREN Catering Limited
Your Name and Role in the Business:
 Natalie Hardman & Jeni Wadkin – Managing Directors
What do you do?: 
We provide conference catering services at 54 St James Street & other external venues, run SIREN which is open 7 days a week & host bespoke events & weddings at our venue.
When did you move into 54 St James Street?: 
We have been here for 3 years in February ( the fastest 3 years ever!)
What do you like about working here?: 
We love seeing all our regular customers & have fallen in love with the space & the Baltic area!
Your best achievement to date: 
We were the sole provider of all catering services for IFB 2014 which took place in Liverpool.
Is there anything people should know about you?
We have a 10% discount to all tenants and you can follow our social media platforms for updates on other special offers
Contact details: info@sirenliverpool.co.uk 0151 706 8148