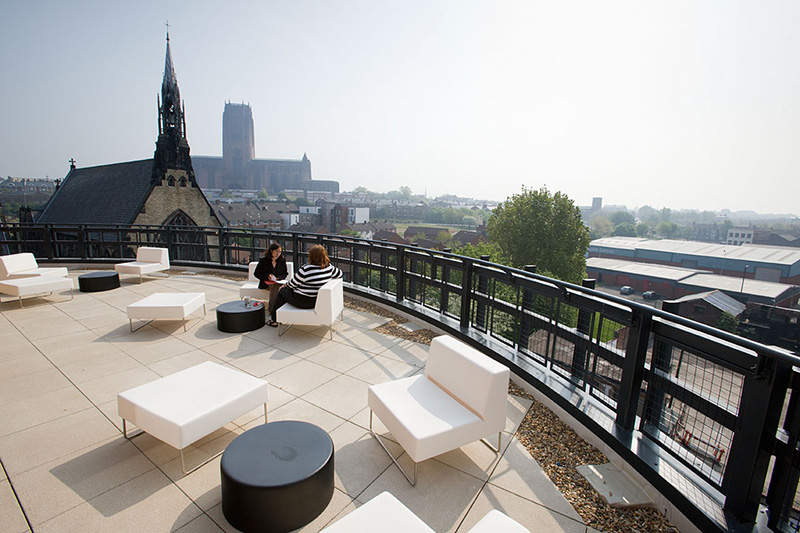 The Baltic effect: why choose the Baltic Triangle for your business?
The Baltic Triangle is a unique, diverse mix of eclectic venues, creative hubs and thriving businesses. And this year it's quite rightly been voted one of the most stylish neighbourhoods in the UK.
At 54 St James Street we are proud to call this diverse corner of Liverpool our home. But could basing your business in Liverpool's creative quarter foster innovation and productivity in the workplace?
We explore the benefits of basing your business in the Baltic Triangle.
Community
The Baltic Triangle offers an unrivalled sense of community. Anyone who has visited the city's famed creative district will agree.
With the right approach, this supportive network can help your business to thrive and grow. From monthly networking events hosted across the district, the numerous training and development courses on offer, there is a boundless amount of business support there for the taking.
Creative exchange
It's a well-told narrative that creativity leads to productivity. So much so that 82% of business owners believe that there is a link between creativity and business results.
Dubbed as the city's creative and digital hub, the Baltic Triangle is home to some of Liverpool's most innovative businesses who might just get your creative juices flowing. Running your business in a creative environment naturally fosters inspirational ideas and enthusiasm and can even motivate your team, paving the way for your next big idea.
Support regeneration
Over the last 10 years the area has seen a dramatic level of regeneration. What was once a district of abandoned warehouses and workshops is now a thriving hub for independent businesses and enterprise.
At 54 St James Street we were lucky enough to play a pivotal role in the regeneration of the Baltic Triangle and continue to be a catalyst for ongoing development. By choosing to base your business in the Baltic Triangle you will be part of this movement and enable the continued renaissance of the area.
 City centre links
When it comes to choosing a new office space, it's all about location. What does your base say about your business and your brand? Is your office accessible for those all-important client meetings?
The Baltic Triangle offers a city-centre postcode with all the perks of being part of a creative hub. Just a short walk from Liverpool One the city entre is within easy reach with excellent transport links right on the doorstep.
We currently have three offices available here at 54 St James Street, suitable for between 2-3 people. If you would like more information about our office space, hot-desking or business incubation, please contact our team on 0151 706 8100 or venue@thewo.org.uk.