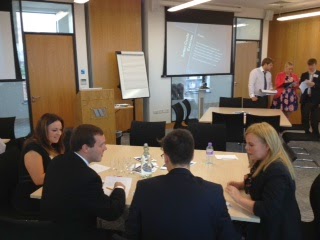 Hampson Hughes "Would Recommend 54 St James Street to Other Businesses for Events"
Hampson Hughes Solicitors are regular users of 54 St James Street's meeting and conferencing facilities. We contacted them to find out what made them choose and return to the new meeting and conference centre based in the trendy Baltic Triangle district of Liverpool.
We interviewed Office Manager and Head of Human Resources Liz Edwards to find out more:
Hi Liz, tell us a bit about your company and what you do:
"Hampson Hughes Solicitors are a leading national Personal Injury law firm with 100% commitment to our clients. As specialists in maximum settlements & with a proactive approach to claim resolution, we aim to provide simple, effective and accessible legal representation to victims of a broad range of accidents. The firm has experienced phenomenal growth since it started in 2009 and now has over 250 talented and committed staff working at our offices in Edward Pavilion, Albert Dock."
When did you use 54 St James Street and what for?
"We have used 54 St James Street several times over the past 12 months to hold our recruitment assessment days."
How did you find the facilities and the overall atmosphere at 54 St James Street?
"Fantastic! The staff at the venue bend over backwards to ensure all of our needs are met and are always flexible in accommodating last minute requests and extra requirements. The event space that we use on the 4th floor is really impressive with the full length windows giving a view over the city and making the space feel light and open. The modern facilities that are available mean that our events run smoothly and assists in projecting the professional image that our firm maintains. An added bonus is Siren as their offering is unique compared to other event catering companies and very well received by those that we were interviewing and our own staff."
Do you think it made any difference to your event holding it here rather than another venue?
"The feedback we receive from the candidates who attend our recruitment days at 54 St James Street is consistently positive. There is a range of room space available which means we can facilitate group exercises in the larger rooms and then break off into the smaller rooms to carry out individual interviews. We do have the space available in our own building but everything at 54 St James Street is set up and organised in a way that means our events can run efficiently and successfully."
What are the key elements that make an event successful in your eyes?
"Getting the right venue is essential to a successful event. It is important that attendees are comfortable and relaxed in their surroundings but it also needs to set the right tone for the event. Securing a well-organised venue with great facilities also means that we can concentrate on delivering a fantastic event without having to worry about smaller logistical issues."
What do you look for in a venue?
"Somewhere reasonably priced in the city centre that has a range of space available and good multimedia facilities."
Would you recommend 54 St James Street to other businesses?
"Yes, I would recommend 54 St James Street to other businesses for events space. The building has a great feel to it, the facilities and the spaces are excellent and the staff are extremely helpful."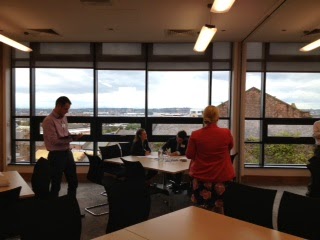 Hampson Hughes Solicitors used 54 St James Street's impressive Roddick Rooms, along with breakout space and catering from in house suppliers Siren when visiting the venue. Roddick rooms named after the inspirational Dame Anita Roddick boast fabulous views of the River Mersey and Liverpool City catering for up to 150 delegates theatre style with a half day rate of just £188 and full day rate of £300. The suite can be used as one or divided into two or three separate areas to create elegant training, networking or social spaces. All rooms are fully equipped with lecterns, static & roving microphones and state of the art integrated audio-visual equipment, video conferencing facilities are available as well as blu-ray/DVD players, iPod docks.
The Roddick Conference Suite is very versatile; located on the fourth floor of the building and have easy access to external roof terraces. All rooms have natural light and heating and cooling system which can be controlled from inside the room. Free connectivity WiFi is available.
If you are looking for an impressive Liverpool city centre venue to hold training, meetings, conferences and events, why not pop in to 54 St James Street to check out the facilities. Flexible spaces available catering for events of 2-200 delegates. Find out more from our team via venue@thewo.org.uk or 0151 706 8111 and follow @54StJamesStreet on twitter for news and offers.
To find out more about Hampson Hughes Solicitors visit www.hampsonhughes.com or follow @Hampson_Hughes on twitter.