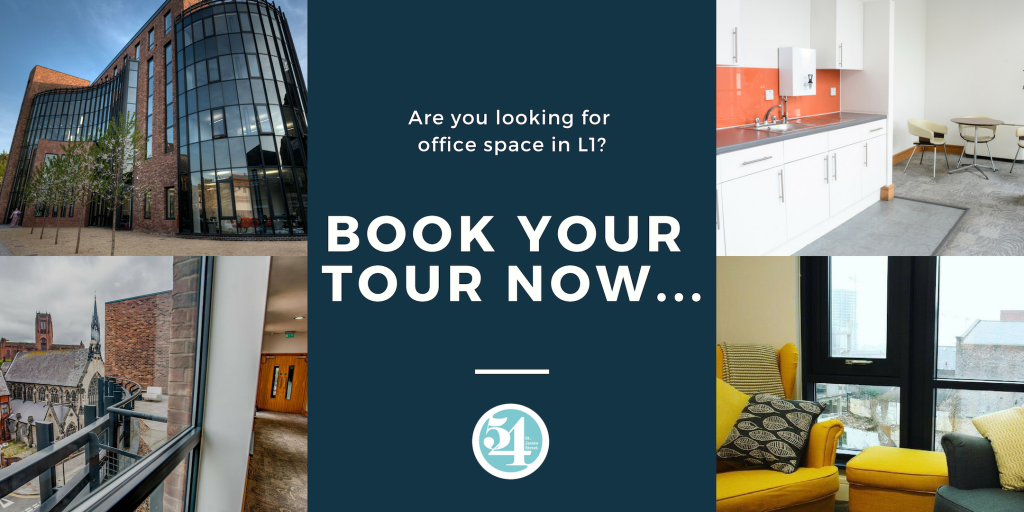 Looking for office space in Liverpool? BOOK your 54 tour today
Are you looking to take on office space in Liverpool? We're holding a special open day on Thursday 18th April, with selected time slots available for you to book a private tour with our building and facilities manager who can answer any questions you have about taking on office space. 
Find out if 54 St James Street could be the new home for your female-led business with a free, no-obligation tour so you can explore our space first hand…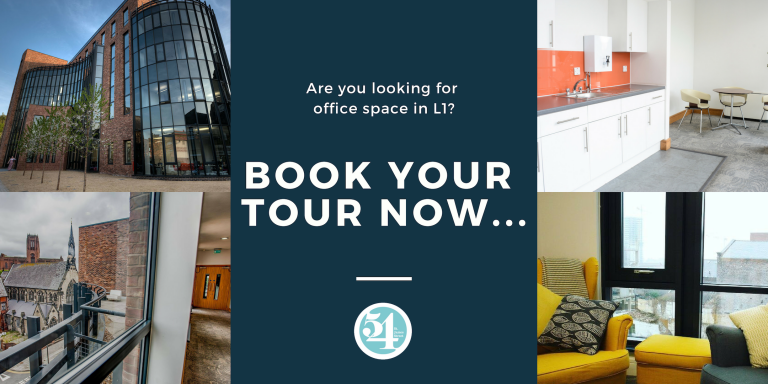 About our space
Based in Liverpool's Baltic Triangle, 54 St James Street offers contemporary offices in various shapes in sizes, catering to a range of business needs. We currently have a range of sizes available, from small to large spaces ideal for 1-3 people. Prices start from £250pcm (+VAT) for a small office.
L1 postcode in the Baltic Triangle
10 minute walk from Liverpool ONE & Bold Street
Internationally renowned centre for women's economic development
Discounted conference & meeting spaces
Wireless high-speed broadband
Staffed reception with mail handling
Access 8.00am – 10.00pm weekdays and 9am – 3pm weekends
Free on-site bike-racks & shower facilities
Communal kitchen spaces
On site café with 10% discount for tenants (plus 20% discount on food and drinks after 4pm).
A flagship facility for women in business
More than just an office space, 54 St James Street is a flagship facility for women in business and home to The Women's Organisation. Our building was developed as part of the 'WICED' project; a gender-focused initiative to support women with economic participation and entrepreneurship. Since opening our doors in 2011, we've helped to create over 1,000 new businesses through the work of The Women's Organisation. Our aim is to ensure that our business services contribute to our tenants' business success. From our on-site business advice team, to our dedicated Business Club for female entrepreneurs, we have the networking and support in place to help your business thrive.
If you're interested in finding out more, why not book a free no-obligation tour with a member of our team via our Eventbrite page? Click here to book. 
You can also call 0151 706 8100 or e-mail venue@thewo.org.uk for further information.