Hosting Your Eurovision Conference In Liverpool
The Eurovision Song Contest is one of the biggest and most popular television events in the world. Millions of people tune in every year to watch the competition, which sees countries from across Europe compete to be crowned the winner.
In 2023, the Eurovision Song Contest will be held in Liverpool, England. This is a huge opportunity for the city, as it will attract visitors from all over the world. It could also be a great opportunity for your business, allowing you to capitalise on the event by hosting your conferencing and events in the city.
Why Liverpool and why Eurovision?
There are a number of reasons why businesses should consider hosting a conference or event related to Eurovision in Liverpool. The city has a lot to offer visitors. Liverpool is a vibrant and exciting city with a rich history and culture. There are plenty of things to see and do in Liverpool, which will make it a great destination for conference and event delegates.
Liverpool is well-connected. The city is served by two airports, Liverpool John Lennon Airport and Manchester Airport. It is also well-connected by rail and road, making it easy for delegates to travel to and from the city.
The city is also a great value for money destination, offering excellent value for money on accommodation, food, and activities. Though things like hotel prices have risen for Eurovision, there are still cost-effective destinations for businesses to host conferences and events.
Let 54 St James Street Host Your Conference Or Event
Hosting a conference or event related to Eurovision in Liverpool can be a great way to attract attention to your business. It is also a great way to network with other businesses in your industry and the host city.
54 St James Street has a number of meeting and conference rooms that are designed to meet the needs of a modern business.  WIFI is complementary, as well the use of communication devices such as web cams and large screens.  Our staff are technically proficient and will be on hand to cater to your meeting and conference needs – not forgetting the essentials like tea and coffee!  We also have an onsite caterer that will provide for all dietary needs.
We are a stone's throw away from the arena and are a short walk from the city's mainline station of Liverpool Lime Street, as well as the Merseyrail stations of Liverpool Central and James Street.  Our location is the trendy Baltic Triangle, a place that is sure to meet the vibrancy and party atmosphere that Eurovision demands!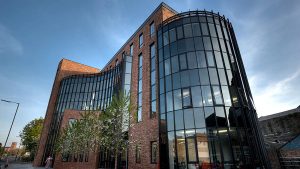 Some Tips
Here are some tips for planning a successful conference or event in Liverpool:
Choose a date and time that is convenient for your delegates.
Choose a venue that is suitable for the size of your event – like 54 St James Street
Promote your event well in advance.
Plan the logistics of your event carefully.
Hosting a conference or event with 54 St James Street can be a great way to promote your business and network with other businesses in your industry and Liverpool itself. With careful planning and our assistance, you can ensure that your event is a success.
Click here for more on how 54 St James Street can help you host your Eurovision Conference in Liverpool.